Demos Ioannis
Car Workshop Chalandri
Demos car workshop with many years of experience in the car and especially in the batteries, with modern professional space and using state-of-the-art equipment not only for diagnostics but also repair, suitable for all your car's electronic settings, undertakes any repair of your car.
Always selecting quality materials, everything that concerns your car's electrical components (starter, dynamo, battery, air conditioning, etc.) becomes new.
Because safe driving is completely dependent on the operation of the vehicle, it is absolutely necessary to check its condition even if you have not detected any damage.
We are next to you guaranteeing quality and guarantee in what concerns your car at the best prices.
Demos Ioannis can undertake the repair - maintenance - service on:

Batteries BOSCH, VARTA, ACDelco

Starters

Dynamo

Air condition

Freon

electric windows

electric lockers
Our goal is the complete satisfaction of our customers. We make sure we constantly keep up-to-date on new product developments to offer our customers even more quality services.
We also have a full range of spare parts and accessories for radio c / d cars, speakers, amplifiers, tv, xenon.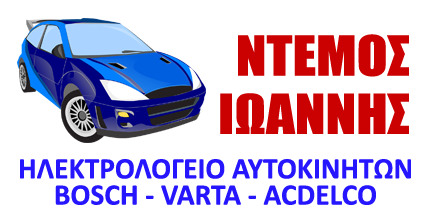 ΔΟΥΚΙΣΣΗΣ ΠΛΑΚΕΝΤΙΑΣ 87, Χαλάνδρι | 2106014192, 6938815314, electric081@gmail.com